Slow 'N Sear® Deluxe Kettle Grill
The Most Versatile Kettle Grill on the Market!
The 22" Slow 'N Sear® Kettle Grill gives you all the performance you'd expect from a kettle style charcoal grill and is customized to work with our
Slow 'N Sear®
accessory for unrivaled searing power, low 'n slow smoking, and true two-zone cooking capability.
Today's kettle-style grills, based on a decades-old design, have always offered a lot of cooking space in a compact design. The Slow 'N Sear® Kettle Grill has all of the sought-after characteristics of a high quality kettle cooker, and then delivers MORE. When utilizing the patented Slow 'N Sear® accessory inside the cooking chamber, this kettle focuses heat for a true two-zone cooking environment that provides the best low 'n slow smoking AND searing power of any charcoal grill on the market.

Grill Features Include:
304 Stainless Steel, 22" EasySpin™ Grill Grate offers superior quality and cooking capability
Slow 'N Sear® Deluxe insert for unrivaled searing power, low 'n slow smoking, and true two-zone cooking capability
Side shelf rated for 20 pounds of brisket or pulled pork
Lid cradle keeps your lid safely off to the side and out of the way
5 vent no-touch ash removal system for superior ash removal
"Smoke Hole": 1 inch circular bottom vent provides more refined airflow control
"Probe Port": ½ inch circular digital thermometer port for more accurate temperature readings. 
Top and Bottom vents with larger holes for more airflow and higher temps when needed
Larger, porcelain coated charcoal grate for a larger fire when cooking without the Slow 'N Sear® accessory
FREE aramid fiber gasket kit for better air control when cooking low and slow
All port holes have covers that swing out of the way when not in use
*We DO NOT ship the Kettle Internationally
Options:
Grill Specifications:

Total Height:  41⅔ inches
Height (without lid): 31½ inches
Width (with shelf extended): 41¾ inches
Width (without shelf): 30⅝ inches
Weight: 38 pounds
Cooking Grate: 22 inches
Color: SnS Gray (Porcelain Enamel)
Shipping Dimensions: 26x26x15 inches
Designed in U.S.A.; Manufactured in China
Recommended Accessories (sold separately):
Customer Reviews
Write a Review
Ask a Question
Filter Reviews:
grill
couple
someone
Weber
everything
kettle
purchase
smoking
side
company
10/19/2020
Mark E.
United States
I recommend this product
BEST KETTLE ON THE MARKET
Everything is wonderful with this grill. It arrived in perfect condition. I love the shelf - you can literally lift it up with one finger and with the aid of gravity it simply falls and locks exactly into place and is sturdy as a rock. Pushing the lid handle horizontally with the same finger allows the lid to slide right into the black rollers and then the lid behaves like it's on a hinge and easily settles into place. I love the "smoke hole" as that can be used to control intake if one wants - after closing the bottom vents - the advantage is you can SEE it so you know exactly how large the air opening is as you adjust to the temp you want. Of course, I love the probe port - I am so tired of running cable through the Weber vents - those days are over forever! I did a tri-tip last week. I followed the exact recipe as shown on youtube (search: sns grills tri tip). Everything went exactly according to plan. I did a quick read on the meat when it was all done and it was 127 just like magic! Nice crust, pink inside, tender, juicy, flavorful. Better than restaurant quality tri tip!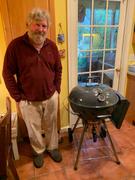 We appreciate you taking a chance on our kettle grill! We are so happy to hear that you're liking it. It's nice to see a smiling face next to it! The tri tip sounds like it was perfect. Grill on!
10/16/2020
Clark K.
United States
I recommend this product
Easy to assemble
The grill arrived the afternoon before I was having a total knee replacement. I did assemble it but have not gotten to use it yet. It was easy to put together by following the clear instructions that came with it. I had my surgery and am home rehabbing my knee and am using a walker. All I can do for a couple of more weeks is just look at the pretty new grill and cover!!
Thanks for your purchase and review! We hope you recover quickly from your surgery and can get to grilling on it soon! If you ever have any questions or concerns, please let us know.
10/16/2020
Robert C.
United States
I recommend this product
this would be a great product if it was truly made in the USA
A little disappointed. After paying $467,93, $364.99 for the grill and $102.94 for shipping, I received my grill with a dented and missing lock pin leg (it must be made in China). I purchased the grill but still had to wait for two months before it arrived. I planned on firing it up over the weekend, since I wanted to show it off to my friends. I don't know what quality control this company has in place, but it sucks. The packages with the screws and nuts have writing on them that only someone in their twenties could read. And, since I cannot attach the leg (no locking pin), my brand new grill sits unused. I am hoping you could show this message to Dave, the inventor. Robert
We're so sorry that this happened. We sent replacement legs to you, and we hope that solved the issue with the dent and locking pin. Please let us know if you have any other questions or concerns. Thank you for shopping with us and for taking the time to leave a review. We hope you enjoy using your new grill!
09/03/2020
Ethan C.
United States
I recommend this product
Great Grill!!
Very well build overall. the gray color is very different from any other grills in the market, looks different and great. Many small but smart changes made base on the Webb. Love it!
08/10/2020
Richard M.
United States
I recommend this product
Amazing Grill!
No regrets with this purchase at all! This grill is a game changer!