EasySpin™ Grill Grate - 22"
Simplify & Elevate Any Cook!
Two-zone cooking enthusiasts and Cold Grate Technique lovers rejoice! Made from high quality 304 stainless steel, this grate will simplify and elevate any cook.
Designed to match the width of the Slow 'N Sear® Deluxe and Original Slow 'N Sear®, the single opening streamlines grate functionality while making it easier to access fuel in the basket. Need to refill charcoal? Our hinged, grate design completely covers the water reservoir while providing full access to the charcoal basket. No more wet briquettes!
Our patent-pending design includes the following features:
EasySpin™ Grate handles are welded to the top of the outer ring making the Cold Grate Technique much easier to perform - by manually spinning the grate.
Additional grate rails near the handles provides additional cooking space over stock grates.
Quality 304 stainless steel for durability and longevity.
This grate comes standard in all of our Slow 'N Sear® Kettle Grills and Slow 'N Sear® Kamados
Fits all other 22" kettle grills
Customer Reviews
Write a Review
Ask a Question
Filter Reviews:
grate
Weber
grill
grill grate
quality
charcoal
stock
Works
coals
replacement
07/20/2021
Kermit S.

United States
I recommend this product
Impressive, especially if you have other SnS accessories!
I recently purchased a new kettle grill, and to make it perfect, I purchased the Slow and Sear Deluxe, the Easy Spin grill grate, and the Griddle/Drip pan, and coal tongs.. All of these items work in concert to provide the most optimal, flexible, and convenient means of implementing two-zone cooking on a kettle grill. Truly, the EasySpin grill provides full access to the Slow-N-Sear basket via the hinged grate. The Easy Spin really is easy to spin, and following the spin method for grilling does indeed make a killer steak. The two-zone cooking space is larger than what'd you'd get from stock charcoal baskets, and more convenient because of the shape of the space over the direct heat vs the indirect zone. The Stainless Steel stands up to red hot heat and still cleans up nicely with a wet rag (instant steam clean!). This stuff will stand up to the extreme grilling environment and makes creating delicious food easy! Don't think, just click 'Add to Cart". You'll be glad you did!
07/19/2021
Tommy W.

United States
I recommend this product
EasySpin™ Grill Grate - 22"
Like all SNS products, the EasySpin Grill Grate performs like a champ. Makes the process of cold grate searing so much easier and more enjoyable than a standard grate. No more sudden stoppages when spinning. If you are into reverse searing using the cold grate method, the Easy Spin Grill Grate is the grate for you!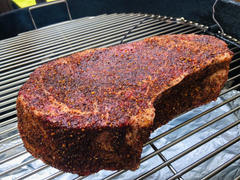 07/07/2021
Jason B.

United States
I recommend this product
Nice!
Works as advertised and makes one more phase of grilling a pleasure.
06/21/2021
Nicholas T.

United States
I recommend this product
Easy spin grill grate
I bought the Deluxe Kettle Grill from you guys. The handle on the grate broke off on like the 5th time I used it I emailed customer service they sent a new one in under 5 days very impressed with customer service!! I like the features of the grill grate on how it spins and how easy it is to add charcoal!
Hey! We are so sorry that happened, and thank you for your kindness while we resolved the issue. If you ever have any other issues, please let us know. Glad you're enjoying it.
06/15/2021
Anonymous

United States
I recommend this product
EasySpin 22"
Great product, amazing customer service and very quick shipping. Highly recommend!