SnS-500 Digital Thermometer
Our BRAND NEW Digital Thermometer is perfect for the Backyard BBQ Cook!
Our resident BBQ expert, Dave Parrish, knows his thermometers, so he set out to design a top of the line model that anyone can afford! This must-have thermometer is loaded with features – FOUR probes, high/low alarms, large back-lit display, extended remote unit range, and more – at a price that won't break the bank.
Features Include:
Wireless receiver (smaller unit) and transmitter (larger unit) with EZ-SYNC. 

Consistent operation of both power buttons. Quick press to turn each unit on. Long press to turn each unit off.

Easy programmable low and high setpoint alarms for each probe with volume control
LCD backlight: 

Dual color that won't fade when the alarms go off

Integrated LED flashlight on the receiver 
500 ft. transmission range
Magnetic rear case with stand
Hybrid temperature probes for monitoring ambient/food temperatures including:

(2) 3 inch waterproof grill temperature probes
(2) 6 inch waterproof food probes
(2) grate clips

Range of 14°F to 572°F (-10°C to 300°C)


°C/°F (user configurable)

Uses AAAx4 batteries (included)
*We DO NOT ship the SnS-500 thermometer outside of the United States. 
Customer Reviews
Write a Review
Ask a Question
Filter Reviews:
thermometer
Bluetooth
purchase
instructions
fact
probes
rcvr
backlight
display
radio frequency
06/17/2021
Dawson C.

United States
I recommend this product
Great heavy duty Digital thermometer
Units seem to be in a very durable case. Like the fact it comes with 4 probes. Display easy to read, quite bright with backlight on. On turn on the rcvr and txr pair quickly. Definitely happy with my purchase.
06/17/2021
Phil K.

United States
I recommend this product
Good Thermometer with Amazing Features
Been barbecuing for a few years now and I've only had a two-probe thermometer that only had a high alarm, a low alarm is a huge feature for managing temps on a grill. I had planned to upgrade to a Maverick XR-50 but SnS stopped carrying it with this on the way. I pre-ordered an SnS-500 as soon as I got the email and I don't regret it for an instant. It performs its primary job of measuring temperature quickly and accurately. A 4-port pit thermometer is exactly what I was looking for. It lets me monitor pit temp and up to three dishes, or the temp of two pits and a dish in each. In fact, the day I got it, I put it to use smoking beef tenderloin on my Weber kettle and roasting chicken on my SnS kamado. The range on the receiver is great. My kitchen is at the other end of the condo, through multiple brick walls. Connection held steady as I was cooking up the rest of the feast. The thing I love about this thermometer, though, is all the little features that make it incredibly useful and versatile. Both the transmitter and the receiver can stand (in three positions), hang, or magnetically adhere. This makes finding a place to put it a breeze. When I use it inside, I can just slap the transmitter up on the fridge next to the stove. When I use it outside, it can hang from a nail in a post, off a tool hook on the grill, or stand it on my table. Both units are backlit, making them usable at night. The receiver even has a flashlight built in, which is one of those things that is just so handy to have in the moment. Will I use it every time? Absolutely not. Will I be glad that it's a flashlight that one time in ten that I need a bit more light at night or early in the morning? Absolutely yes. The transmitter is supposed to be water resistant when all four probes are connected. I don't intend to put that to the test, but it does give some peace of mind. My only complaint is that I don't think the probes can be calibrated. That would be a nice feature to have just from a longevity perspective. All in all, this is a top-tier thermometer that I heartily recommend.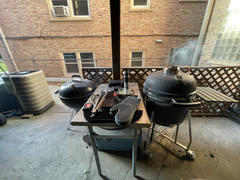 06/17/2021
charles j.

United States
SnS -500 thermometer
Purchased new SnS-500 digital thermometer .,delivery was like 2-3day from ordering..,I chose this because it was not wi fi or Bluetooth..,tried and true radio frequency .,have not used yet..,be safe.,enjoy
06/17/2021
Anonymous

United States
Great Product
I live at sea level so water boils right at 212 degrees. Boiled a pot of water and tested all four probes. Each read within a few tenths of a degree of 212. Checked against my Thermopen and all agreed on the temp. I've only checked range at around 50 feet as that is distance from my smoker to inside the house. Great product and price.
06/16/2021
Anonymous

United States
Good thermometer
This is my 1st thermometer that isn't Bluetooth and the 1st one I got had problems with it trying to make changes by it self. I contacted sns support and they send me instructions on how to stop the glitch I was having and they also send me a replacement. I had to send my old one back. I haven't had any problems so far with the new replacement I got.
Thank you for your purchase and for taking the time to leave a review. We are so sorry about the mishaps with the first thermometer that was sent to you. We truly appreciate you allowing us to make it right and send you a new one. If you ever have any other questions or concerns, please don't hesitate to reach out to us. Happy grilling!