SnS Kettle Probe Port Cover
Create a Probe Port in your Kettle Grill
This port cover and hardware is for creating a ½ inch circular hole for a digital thermometer probe in a kettle grill. 
Works on all sizes of kettle style grills (This could void your grill's warranty)

Cover is made to swing out of the way when not in use

This feature 

comes standard on our 

Slow 'N Sear® Kettle Grills
Watch to see how it works:

Customer Reviews
Write a Review
Ask a Question
Filter Reviews:
shipping
cover
probes
temperature probes
store
screw
coating
vents
piece
kettle
07/25/2021
Richard W.

United States
I recommend this product
Great Kettle Port Cover
This is the cover I was looking for., not big or bulky. .Great product.
06/22/2021
Patrick K.

United States
I recommend this product
Great thing to use for my Weber Kettle, lack of instructions slightly frustrating
The ordering and shipping was great, but install had a hiccup - there were no instructions. I know it's just "drill a hole above the grate" (by the way, I was able to use regular bits of increasing size as I didn't have a step bit, which looked like the preferred method in the posts I found) but I wasn't sure which order the hardware sandwich goes - so I went with screw, cover, kettle wall, washer, lock washer, nut. I hope that's correct, but a small piece of paper in the bag (or even just a picture of the order on the product page gallery) would have been helpful. Also, as recommended in another review, I tried bending it slightly to fit the curve of the kettle a little better and the coating (not sure if powder coating or paint) flaked off a bit, so I'll be hitting that with some high temp paint as soon as I get to the store to pick some up. I've used it a few times, and it's great to not have to have the probes down through the top vents or potentially crimped under the lid. I'm not sure if the hole affects the temp since I've been having trouble maintaining 225-250 using my SnS deluxe or if it's from lid leaks (more likely) - I'm going to try binder clips on my next run. I absolutely recommend this product if you regularly use temperature probes.
Thanks for your purchase and for taking the time to leave a review. We apologize for any confusion when installing the cover. These covers come standard on our Slow 'N Sear Kettle grills, so no installation is necessary. Once Tom Horsman used them to make modifications to his Weber in a YouTube video, we had a lot of people asking about them, so we started offering them as an individual accessory. We'll see what we can do to offer better instructions moving forward. Thanks again!
06/10/2021
Anonymous

United States
I recommend this product
Port cover is simple and easy to install
A simple and easy install and great for organizing your probs.
06/04/2021
Michael C.

United States
I recommend this product
Doesn't quite fit the curvature of my Weber 22" kettle
Very well made, just stands away a small fraction of an inch from the hole I drilled for it. My kettle is a 2003 model 22" Weber.
Thank you for your purchase and for your feedback. These port covers were made specifically for our Slow 'N Sear Kettle, so to use them on a Weber, you may have to bend them slightly to fit the curve of the bowl. If you need help with anything else, just let us know! Thanks again.
01/19/2021
Onelio R.

United States
I recommend this product
probe port
I ordered the probe for my weber along with a plancha. The plancha arrived I really like it...but the port was not in the box. SnS agreed to send another. Received the port and the tab was broken off, it does not appear to be a strong enough attachment to make it thru the APO system. I will go ahead and put it on the grill and try to make due without the tab…can't think of a good way to repair it and as it is shipped in a flat envelope I think repeating the process is not the answer. Again the port cover looks good but the attachment and shipping is the failure point. So far this is the only thing from SnS I can say was a disappointment and I have bought several items.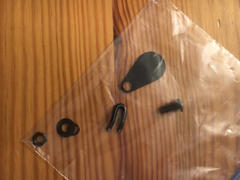 We are so sorry about that, Onelio! We truly appreciate all of your support and you taking the time to share your experience. We are going to issue a refund for the price you paid for the port cover. It will go to the payment method used on your order. If you aren't able to use it as intended, please let us know, and we'll see what else we can do to help. We apologize for any inconvenience.