Slow 'N Sear® Kettle Grill Cover
Branded Cover for our Kettle Grill
We know there's nothing better than looking at the beauty of the Slow 'N Sear® Kettle Grill. But when it needs some additional protection from the elements, this "SnS Grills" branded cover is the ideal solution!
Perfectly fitted to the

 

Slow 'N Sear® Kettle Grill

 

(39″ tall, 31″ wide, 26" front to back)

Velcro closure making it easy to install and remove

High quality, UV resistant material 

is waterproof and will not fray, rip, or tear
"SnS Grills" printed logo reminds you of all the great meals to come!
Customer Reviews
Write a Review
Ask a Question
Filter Reviews:
cover
quality
grill
everything
kettle
Weber
cooks
front
side table
wind
07/28/2021
Greg K.

United States
I recommend this product
Very nice quality
I recently added the SNS side table to my kettle and realized my original weber cover no longer fit. I'm glad I bought this one because the fitment is great and the quality is much nicer. Love it!
07/13/2021
Dave B.

United States
I recommend this product
Decent Cover
Living in the scorching sun of AZ, you need to keep a protective sacrificial cover on anything you don't want sun damaged. The SNS kettle cover fits well and proved itself secure during last night's wind gusts. I especially like the partial split front with velcro closure. It makes it easy to get the cover off and especially on
07/07/2021
Chris L.

United States
I recommend this product
Follow-up on my review of a week ago
Ok, SNS reached out to me immediately upon reviewing my previous review. I responded as requested, and they replaced my kettle cover immediately! In my opinion, you just can't beat SNS for their products nor their support. I am sold on SNS all the way. I couldn't be happier wth my kettle, nor the company as a whole. When I mention my cooks to those I follow on YouTube, they all give me huge thumbs up and congratulate me on my SNS kettle acquisition!!! I HIGHLY recommend SNS to anyone looking to step up their grilling! Thank you so much!!!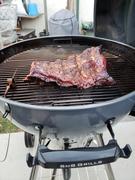 07/01/2021
Greg

United States
I recommend this product
Very nice and heavy duty
I added the SNS side table to my 22" Weber Kettle and didn't even think about my original grill cover not fitting. With the extra width of the side table, my old Weber cover wasn't wide enough. My new grill cover SNS is super thick and very durable. Love it!
07/01/2021
Chris L.

United States
I recommend this product
Great cover ... but...
When I threw down my hard earned cash for my new SNS Kettle, I wanted to protect it when not in use so I got the cover with it... I've had it about 3 months now. I went to uncover my kettle yesterday to smoke some chicken thighs and the handle strap on the top tore away from the cover when I lifted it off with hardly any pulling pressure on it. He aware that some of the materials used in the manufacture of this cover aren't of the kind of quality of the SNS Kettle!!! That's why I only have it 4 stars.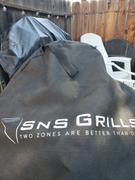 Oh no! We are so sorry that happened! Please contact Customer Service directly by emailing us at info@snsgrills.com, and we'll send you a new one! You are covered under the 1 year warranty. https://snsgrills.com/pages/warranty-information