Drip 'N Roast Pan - Porcelain
Drip Pan & Roasting Pan, All-in-One
A contoured drip pan for the charcoal grate of your 22″/26″ kettle or Weber Summit Charcoal Grill that does double-duty as a roasting pan. Raised edges (1 1/2″ high) makes sure what's in the pan stays in the pan. And easy-access, outside-welded side handles allow for ease of moving it to/from and around the grill.
Drip pan – sits on the charcoal grate to catch drippings from your biggest cooks (no more messy foil!).  Also aids in the direction of airflow to the Slow 'N Sear® that helps stabilize pit temperatures.
Roast pan – use on the indirect side for roasting – the darker surface delivers a perfect brown exterior. Great for roasting veggies!
Made from carbon steel with a durable, food-safe black porcelain coating and is dishwasher safe. This pan should not be used over direct heat as a griddle. Please choose our stainless steel or cast iron Drip 'N Griddle Pan should you need to cook over direct heat. 
Product Dimensions:
Width (not including handles): 19 inches
Depth: 11¾ inches
Wall height: 1½ inches
Wall height (with handles): 3½ inches
Please Note:  This Drip 'N Roast Pan does not come with a grate. Slow 'N Sear® Deluxe sold separately. 
Customer Reviews
Write a Review
Ask a Question
Filter Reviews:
grill
drippings
foil
kettle
Weber
sear
products
time
bottom
coals
05/10/2021
Jimmy C.

United States
I recommend this product
Solid product getting it done
I moved recently and so today was the first time using this drip pan as a roasting pan even though I ordered it a while ago. I cooked up some hot Italian sausages on the sear side to brown them and then simmered them with the onions, mushrooms, garlic, and peppers on this roasting pan on the slow cook side. Truly outstanding! The fat from the sausage created a nice little gravy to which I added a splash of balsamic vinegar. Threw a sausage onto a garlic roll along with my roasted veggies and enjoyed one fine work-from-home lunch! Versatile product and the clean-up was nothing more than a paper towel on the pan. Go ahead and get yourself this!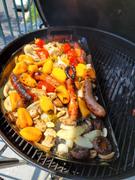 05/03/2021
Debra L.

United States
I recommend this product
Drip pan
Husband used it but he lined it with wrap, said it was so easy to use and no cleaning after
04/27/2021
Anonymous

United States
I recommend this product
Drip 'N Roast Pan
Works great with the S&S.
04/16/2021
Adolfo L.

United States
04/07/2021
Dustan

United States
I recommend this product
Keeps your kettle clean
I've owned the slow and sear for close to two years now but always used aluminum foil to catch the grease drippings from my cooks. My oh my what a difference this drip pan makes. Cooking was no different but cleanup was a breeze. I smoked two whole chickens and it had enough capacity to probably hold the grease/drippings from two more. Once it cooled down it was as easy as lifting it out and dumping it. With foil, I always had drippings on the bottom of my kettle and in my ash catcher. Not happening with this drip pan! Keeps the kettle base free of dripping grease.