Slow 'N Sear® Deluxe Kamado
The Most Versatile Kamado on the Market
The Slow 'N Sear® Deluxe Kamado Grill gives you true two zone cooking or traditional one zone cooking - the choice is up to you!


Today's kamado-style grills, based on a centuries-old design, are well known for their thick, insulated walls and excellent heat retention. Typically, coals are placed in the lower portion of the cooker and food is placed on an upper cooking grate creating a one-zone cooking environment. Temperature is uniform throughout the grill's cooking surface whether cooking low 'n slow or at temperatures 700°+ F for searing.
The Slow 'N Sear Deluxe Kamado has all of the sought-after characteristics of a high quality kamado cooker and then delivers MORE. Utilizing the patented Slow 'N Sear® inside the cooking chamber, this kamado improves one-zone cooking and enables a true two-zone cooking environment creating the most versatile kamado on the market.


"Best New Product of 2019" and "Best Value Platinum Medal Winner" – Meathead Goldwyn, amazingribs.com

With this deluxe edition you get:

Slow 'N Sear® Kamado Grill
Premium stainless steel cradle
Slow 'N Sear Deluxe 
Drip 'N Griddle™ Pan Deluxe
22" EasySpin™ Grill Grate
Stainless steel Elevated Cooking Grate
Two (2) premium HDPP (high density polypropylene) side shelves
Stainless steel upper charcoal grate
Cast iron lower charcoal grate
Ceramic deflector plate
Ash tool
ASSEMBLED DIMENSIONS
Height:  48 inches
Width (with shelves extended): 55 inches
Depth: 30 inches
Weight: 231 pounds
*Kamado cannot be shipped to PO Boxes. 
Customer Reviews
Write a Review
Ask a Question
Filter Reviews:
grill
kamado
quality
everything
accessories
chicken
kettle
purchase
Assembly
cooks
01/06/2021
john w.
United States
I recommend this product
From Kettle to Kamado
Having used the slow n sear in my Weber kettle for a few years,I knew the value of coupling the slow n sear with a kamado had to be a great combination. I live where it gets moderately cold from winter through early spring. The kamado has extended my grilling season to year round. The quality of build is great.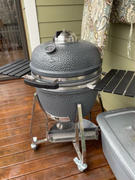 12/30/2020
William A.
United States
Deluxe Kamoda
I've been looking at these for several months and finally ordered it. I've done a couple of cooks with and very pleases with the outcome. I got it setup just in time for Christmas. I smoked a large butt roast and divided it between two of my elderly neighbors. They were pleasantly surprised!
We're so happy to hear how much you're enjoying your new kamado! What a nice thing to do for your neighbors. We bet it was delicious! If you ever have any questions or just want to reach out for a quick chat, don't hesitate to reach out to us. Thanks for your support and for taking the time to leave this review! Grill on.
12/20/2020
Stephen T.
United States
Great Value!
I've been researching what my next grill would be for the last 9 months or so. My earlier instincts led me to the Weber Summit Charcoal or a Kamado Joe but eventually decided that I might just buy a SNS insert for older kettle style grill. That is until I stumbled upon SNS's version of the Kamdo which offered great value compared to the two Kamado products I had been considering. I finally bit the bullet on the Cyber Monday sale and have not been disappointed with the few cooks I've completed thus far. The grill feels like everything is very high quality and assembly was painless. The SNS Kamado feels like a no brainer compared to a KJ or BGE with the larger cook surface, included accessories and the purported higher-grade ceramics. Only time will tell but as of now I am very happy with my purchase and looking forward to many more cooks on my new grill. The only area of potential improvement that I'd recommend at this time would be the manual. It feels like a lot of instructions from the SNS insert have been recycled and the pages of the manual were out of order and I think one or two pages may have been missing. I'd recommend the SNS team invest some time in developing more material specific to operating their Kamado. 5 stars and highly recommend to any considering purchasing this grill!
Thank you for this great feedback! We're glad to hear that you are enjoying your SnS Kamado so far. If you have ever have any issues or questions, don't hesitate to reach out to us. We truly appreciate your support! Grill on.
12/19/2020
Steve H.
United States
Great results in low temp cooking.
After using your Slow N Sear deluxe now several times I am very pleased with the results for how it cooks. BBQing at these lower temperatures for longer periods of time is new to me but the results are really good and I am enjoying it! Since this is a very high end grill there are some design/manufacturing things I am surprised at. For one the cradle that the grill nests in comes with countersunk phillips screws, split lock washers and flat washers for assembly. Totally incompatible as the tapped holes the screws go into are not counter sunk but flat! You don't use split and flat washers with countersunk screws. Not sure how you can get that wrong as far as hardware that comes with the product? The design for removing old ashes is poorly done. The directions say to use this small scraper and pull the ashes out through the front vent. Well that isn't great as the ashes fill up the groove the vent slides in and then the vents won't close all the way and are hard to move unless you blow them out and get all the crud you just pushed into them out. I have cooked on Kamado style grills for many years and the previous one I had was much superior. The ash bin at the bottom was clipped on but had a good seal and when you needed to empty it, you unlatched it and slid it off to empty the ashes into a container. Very efficient and took a fraction of the time to do compared to yours. I was also more impressed with my old grill's second level cooking grate. It was on a rotating socket so when you opened the lid and needed to get to what was cooking under it you just spun it out of the way. You didn't need heat resistant gloves and then find some place to put it down that wouldn't burn what you were setting it on. They had thought that one through. I wouldn't call this a complaint as I am not an expert on ceramics and you mention how high a quality your ceramics are. However when I am cooking at a fairly low 300 degrees you can not rest your hand on the outside of the grill as it is very hot. On my old much less expensive Kamado, I could heat that up to 600 degrees and put my hand on the outside and leave it there for even 10 seconds? Since your grill is cooking evenly and doing a good job I will chalk that up to my lack of knowledge on different types of ceramics. Thanks and I am enjoying cooking with this grill!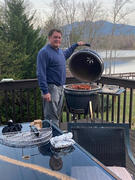 Thank you for taking the time to provide feedback. We're glad to hear that overall, you're happy with it. If you ever have any questions or concerns, just let us know. Thanks for shopping with us! Happy grilling.
12/18/2020
Eric
United States
Top of the Food Chain!
I did not plan to review this SnS Kamado until after 6 months of use. I live in Michigan (Cold) and my Kamado arrived December 7, 2020. I assembled it the same day it arrived (it's very easy to assemble, but you need to borrow a friend for 15 seconds to help you lift it onto the (cradle) stand. I planned on only using it this winter when there was a break in weather (40 degrees plus). After the results of my first cook, I couldn't stop, I've used this thing 7 times in 11 days in 20 and 30's degrees weather (not something I was anticipating). After a solid year of research, I knew I would like this Kamado I just didn't know I would like it this much. I looked at everything, kamados, off set smokers, gravity smokers, pellet grills… My mind has changed more than a few times, I over analyzed everything to death. After about a month figured out, I wanted a kamado, there were a few that caught my eye, they were all nice but they had their limitations. Then I stumbled across a video of a kettle with a "Slow n Sear". What the **** is this? The Slow n Sear is a Game Changer. I read every article I could find and I watched every YouTube video with a Slow n Sear 25 times or more (not kidding – 9 months of covid lockdown there is plenty of time). When you add up the quality of this Kamado with the ability of a Slow n Sear – it's a no-brainer. I knew it had good ceramic blend and Stainless Steel, but I didn't expect the quality to be through the roof. This thing is built like a tank, but easy to move around. I was worried about moving it over uneven concrete slabs, but this thing is not tipping over unless you purposely try to do it, which would still be very hard. The center of gravity of this kamado makes you feel very confident moving it around. There a many unexpected things with this kamado and I thought I thought of everything. Who knew I would enjoy cleaning out a grill? It literally takes 3 minutes, way easier than a kettle or pellet grill. I use the Kick Ash Can which collets most of the ash, just lift and dump. I only use a vacuum because I want to, not because I have to. I even put the spin grate, charcoal grate, and elevated rack in the dishwasher (who knew), they come out 99.9% looking new. This stuff is solid stainless not plated steel like most brands. My wife laughs at me because I even rinse off and use a non-abrasive plastic scour pad on the "Slow n Sear". She said "isn't that the thing the hot charcoal goes in". I tell her "Yea! But look how pretty it is". I think she's jealous. On to the important things; the performance of this Kamado is excellent, I'm new to this "fire management" thing, she holds steady for hours in really cold weather, I can't wait until the summer. The learning curve is short and easy, just learn the basics. With this Kamado I've used the Tradition Kamado style and the Slow n Sear (Low n slow & reverse sear) all three have knocked it out of the park. I bought a Fireboard 2 Drive, thinking I needed it, but this thing holds steady on its own without it. I'll probably use it for overnight cooks just so I can sleep from 11-3. I've emailed and called customer service with questions probably 7 or 8 times and the response have been quick every time. (Thanks Sharon). You don't get customer service like that with most BIG companies. With Covid I don't plan on going to a restaurant for at least 8 months, a year or maybe longer. I told my wife "if we want to eat great tasting food, we're going to have to cook it". I'm cooking a lot more now, instead of it being a chore I find myself looking forward to it. I thought I would only use it on the weekends in good weather. I could go on and on. Review Summary: Love it! Wish I did it earlier. $1, 200 cheaper with a few accessories than the kamado I was going to get & it is not as versatile as the SnS Kamado. Listen the Slow n Sear in a Kamado doesn't make it a little better it makes it a lot better. Game Changer Better. If everything works out, I plan to purchase a SnS Kettle Deluxe to take to my Mother's, I have to work on her garage for a few weeks this spring and it's way easier to transport. Dave thanks for inventing and making great products. Eric
This is a fantastic review! Thank you so much for taking the time to write it. We get a lot of questions about how well it performs in winter weather, and you pointed it out perfectly. We are so glad to hear how much you are enjoying your new kamado! Grill on.