Elevated Cooking Grate - Nickel Plated
Create a Second Level of Grill Space
You get it all with the Elevated Cooking Grate: a larger cooking space AND more versatility to your grilling styles.
Add an additional 180 sq. in. of cooking capacity to your grill by creating a second level – perfect for another rack of ribs or more wings!
Place the Elevated Cooking Grate directly over the coals for a "Santa Maria-style" grilling experience. A great way to get ultra-crispy, super-juicy chicken without scorching!  
Secure fit – rests behind the grate handle and on two pronged "feet" of the cooking grate crossbar.
Compatible with standard or hinged Weber 22″ cooking grates, the 22″ EasySpin grate, and 26″ cooking grates.
Durable, nickel-plated steel
Customer Reviews
Write a Review
Ask a Question
Filter Reviews:
grill
kettle
rack
ribs
cooking
cooking space
n sear
cooking grate
crispy
style ribs
05/15/2020
Anonymous
United States
I recommend this product
Elevated Cooking Grate
Excellent. I am able to cook/grill on two separate levels.
04/12/2020
Anonymous
United States
I recommend this product
Bundle and elevates rack
I bought the for 219. and added on the rack. Haven't used the rack but the slow n sear was all it was advertised. Made stl style ribs they were excellent!
03/29/2020
Jeffrey H.
United States
I recommend this product
Elevated cooking grate.
Don't waste your money! I bought this grate to fit my 22" Weber late last summer and only used it once. Cleaned it and put it away, but when I went to use it today, I found it rusted and totally unfit to use!! It was in a covered area all of the time. Over the years I've spent a lot of money and purchased alot of SnS products and have always been happy and recommended to my friends, but this grate is without a doubt a piece of ****!!! Shop around, there's other options available. A total disappoint to me, and the 10 year warranty dosen't cover the rust problem, so I'm feeling totally ripped off!
We're sorry to hear that you are not happy with your Elevated Cooking Grate. We were able to locate your order for the nickel-plated version - not stainless steel. If you have any questions about it or need additional assistance with this, please give us a call or email us at info@snsgrills.com. We appreciate you taking the time to share your feedback!
03/10/2020
Adam
United States
I recommend this product
Must have for a 22 inch kettle
I use the nickel plated elevated cooking grate all the time in my 22 inch kettle with my slow n sear, it adds a lot of extra cooking space for another rack of ribs or I really like to use it when I'm cooking wings. It's higher above the cooking grate so it's hotter up there and really gets those wings nice and crispy.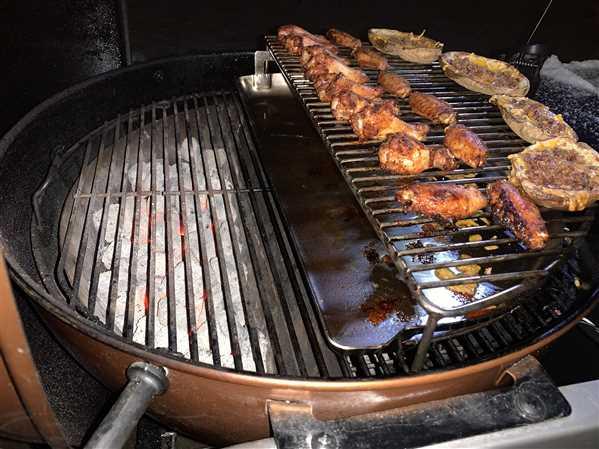 We appreciate you taking the time to leave a review. We're glad to hear you're liking the elevated grate!